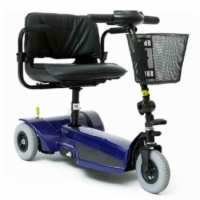 What makes the AmeriGlide 111TS Travel Scooter different? The new 111TS travel scooter by AmeriGlide offers an amazing array of features for one great low price.

What are the 111TS's strong points? Despite being incredibly lightweight (only 84 pounds when fully assembled), this AmeriGlide scooter supports up to 250 pounds of weight. Its regenerative braking system boosts its energy efficiency, allowing the 111TS to travel up to 10 miles on a single charge.

What else should I know about the AmeriGlide 111TS Travel Scooter? The scooter breaks down into three convenient portable pieces for easy transport and storage, so you'll always have it with you when you need it most!