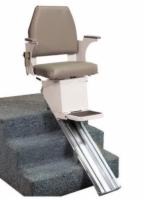 What makes the AmeriGlide HD Stair Lift different? The AmeriGlide HD's 500 pound capacity makes it the top of the heavy duty stair lift class.

What are the AmeriGlide HD's strong points? 500 pound capacity, durable steel cable drive, plugs into a standard household AC outlet for power.

What else should I know about the AmeriGlide HD Powered Stair Lift? Because the HD is subject to more wear and tear than other stair lifts, it comes with a 2 year drive train and components warranty. Also, riders on the HD will face down the stairs whether going up or down. We recommend this stair lift on staircases a minimum of 36" wide.

Manufacturer quote: "you're free to enjoy your entire home again"