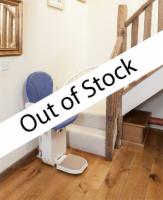 If your home has a curved staircase or one with landings, and a standard stairlift simply won't work, the AmeriGlide Platinum Curved Stairlift is the solution. Since it's made by hand to fit your staircase perfectly, you don't have to try to adapt your house to fit it--it's made specifically for you with a dual-rail leveling system that lets you smoothly and safety navigate even the curviest staircases.
A stairlift should allow you to comfortably and safely move up and down a staircase when you have mobility problems that prevent you from climbing it. The AmeriGlide Platinum Curved Stairlift makes it easy to get in and out of the lift with the swivel seat that can be turned to face the landing so you'll never have to get out sideways above the stairs. You can even opt for a powered swivel-seat. You can raise and lower the footrest with a handle, so you never have to bend down, or opt for the powered footrest raiser. The choices are yours, because it's designed to fit your staircase and your mobility issues.
An adjustable seat in your choice of colors means that you won't even have to give up style for comfort when you choose the AmeriGlide Platinum Curved Stairlift.
Check out the full installation video!