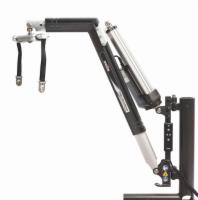 Zeus Auto Lift can be installed in almost any full-size van, Minivan, SUV and crossover and allow you to safely and easily lift and load your power wheelchair, mobility scooter, or manual wheelchair. This strong and agile mobility tool is available in two options that offer different weight capacities. Depending on the size of your mobility scooter, you can opt for a lift with either a 260 or 440 pound weight capacity.
The Zeus AutoLift is easily adjustable to complement your vehicle and comes with a fitting kit that will allow you to custom tailor your lift. It can be easily removed and transferred to another vehicle, making it a convenient and versatile tool. In addition, it comes with a handy remote control, which means that transporting your scooter is as simple as the push of a button.
Call us today to learn more and choose between stylish Carbon Gray, Brilliant Blue, or Radiant Red color packages!