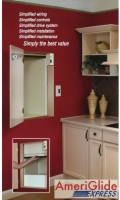 What makes the AmeriGlide Express Dumbwaiter different? The AmeriGlide Express comes pre-assembled eliminating the time and energy required to set up pulleys, complex rail systems, and complicated wiring.

What are the Express's strong points? Configurable with up to 4 stops, capacities from 100 to 200 pounds, meets ANSI safety standards, can travel up to 32 feet at 20 feet per minute, and uses aircraft rated steel cables and aluminum tracks.

What else should I know about the AmeriGlide Express Dumbwaiter? The Express comes with a 5-year drive train warranty and 2-year parts warranty.

Manufacturer quote: "Simply the best value"