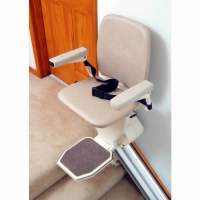 What makes the Harmar Pinnacle Stair Lift different? The Pinnacle is the slimmest and the lightest weight stair lift on the market.

What are the Pinnacle's strong points? Lifetime gear rack warranty, 11" wide when folded, super efficient helical drive, works in a power outage, and meets ASME A17.1 and A18 requirements.

What else should I know about the Pinnacle Stair Lift?

Manufacturer quote: "the true essence of an affordable and necessary luxury"