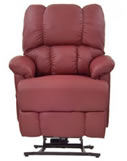 Want to receive our special offers?
Give us a Call!
-
1 (800) 995-9264
Lift chairs, sometimes called lift recliners, are luxurious chairs that actually lift up, enabling you to get in and out of the chair easily. Lift chairs also have motorized recline mechanisms so that anyone can control their seating position. Currently we offer top quality AmeriGlide lift chairs, Pride lift chairs, and Golden lift chairs.

Browse by Manufacturer
starting at

$735.00

For the ultimate in affordability, comfort, and longevity of use, select an AmeriGlide lift recliner.

starting at

$617.00

Golden Technologie's lift recliners are built by craftsmen using the highest quality components. This means you get a liftchair that will serve you trouble-free for years to come.

starting at

$629.00

Pride Mobility is the leading manufacturer of lift chairs in the world. Their years of experience in the industry allows them to provide customers with a wide array of quality lift recliners.
Need lift chair help or advice?
Want exclusive special offers?
Call us at
1 (800) 995-9264