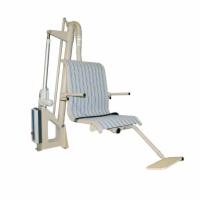 ADA Compliant Public Pool Lift
If you're looking for a pool lift that is ADA compliant, affordable, and easy to install, you have just found it! The AmeriGlide pool lift is made to last and will instantly make your pool handicap accessible! Lift operation is very easy with the control pendant that lifts and lowers the user safely every time. Make your public pool barrier-free today with the AmeriGlide Pool Lift!
Extra features include a removable battery pack as well as removable hand controller. This enables you to control when the pool lift can be used.
Call today and ask about our Quantity Discounts available for those buying 3 or more lifts!