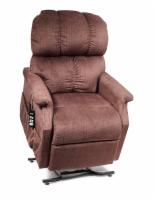 What makes the Golden MaxiComfort PR-505T Lift Chair different? While keeping the same design as the Golden Comforter PR-501, the MaxiComfort adds an infinite-position recline mechanism for enhanced positioning.
What are the PR-505T's strong points? This is our favorite Golden lift chair for the serious lift chair user of larger-than-average body size. You can watch TV, lay flat, relieve pressure, and improve circulation in the many positions offered by this lift chair.
What else should I know about the PR-505T Lift Chair? This lift chair features full chaise padding and a 7-year pro-rated warranty.