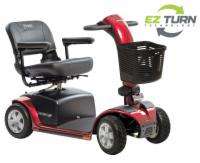 What makes the 4-Wheel Victory 10 different? Pride has continued to refine the Victory series with the Victory 10. LED lights are bright and easy to see, the seat has pinchless hinges and an 8-position seat rotation, and the front-to-rear harness is now auto-connecting.

What are the 4-Wheel Victory 10's strong points? Low-profile solid tires, Delta tiller with wraparound handles, battery-saving LED lights, and a single-point lockup for easy disassembly.

What else should I know about the 4-Wheel Victory 10? The Victory 10's luxury features do raise the price when compared to other scooters in the economy and mid-range areas.

Manufacturer quote: "Luxury features at an economy price."