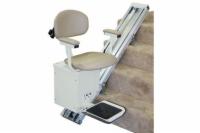 What makes the AmeriGlide AC Rubex Stair Lift different? The AmeriGlide AC Rubex is an all-around good performer built by an FDA-approved manufacturer of stair lifts.

What are the AmeriGlide AC Rubex's strong points? Strong and quiet cable drive, adjustable backrest and footrest, 10 year drive train and 5 year components warranty, and meets ASME A17.1 and A18 requirements.

What else should I know about the AmeriGlide AC Rubex Stair Lift? Like all AC stair lifts, the AmeriGlide AC Rubex will not function if your home loses power. If this is a concern, the DC model may be a better fit.

Manufacturer quote: "Proudly made in America"