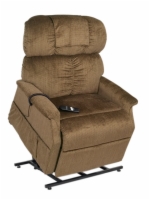 What makes the Golden Comforter Medium Dual Motor Lift Chair different? Ultra-plush seat and back pillows, 3-position reclining, and a removable back make this chair comfortable and versatile. A 500-pound weight capacity ensures that heavier users never need worry about the structural integrity of their lift chair.

What are the PR-501M26D's strong points? This liftchair offers comfort and versatility, as well as a weight capacity of 500 lbs.

What else should I know about the PR-501M26D Lift Chair? This lift recliner comes with a 7-year pro-rated warranty and can be ordered with premium Ultra Fabrics.